Nightlife in Lancaster and Morecambe - Where to Find Live Music and Cask Beers
Nightlife in Lancaster and Morecambe - Where to Find Live Music and Cask Beers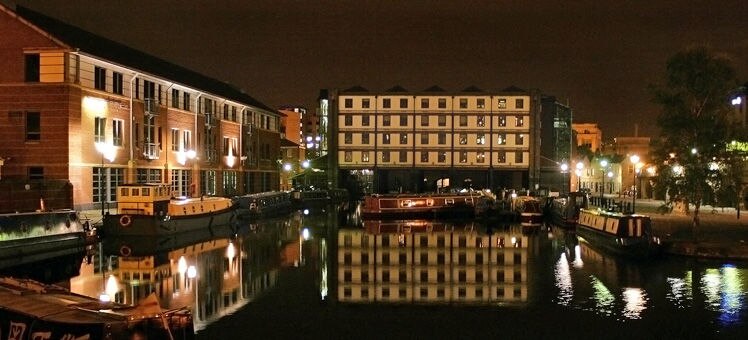 With its large student population and diverse music scene, Lancaster regularly attracts big-name bands to town. Two grand historic theaters often put on live gigs, and several pubs showcase local musical talent, visiting jazz artists, and even international acts. In neighboring Morecambe you can start your night out by watching the sun set over the Irish sea with a bottle of Cross Bay, the local-brewed craft beer.
Lancaster pub culture
You haven't really arrived in Lancaster until you're sipping a pint of proper bitter in one of the city's traditional pubs. Some of the oldest stone inns in the area have been tastefully refurbished without losing their historic charm. These are good places to try guest ales and resident beers, and they often serve high-quality pub food.
The Three Mariners
There's been a pub on this site for 600 years, where prisoners had their last drink before being dragged away to the castle dungeons. At the bar you can choose from traditional Lancastrian ales and modern bottled craft beers.
Bridge Lane, Lancaster, Lancashire LA1 1EETel: +44 1524 388957
The Three Mariners website
The Sun Hotel and Bar
This popular inn manages to pull off a certain modern hipness within an old-fashioned stone exterior. The large beer garden fills will happy drinkers on a sunny afternoon, and the gourmet "pub grub" attracts foodies from across town and beyond.
63-65 Church Street, Lancaster, Lancashire LA1 1ET. Tel: +44 1524 66006
The Sun Hotel and Bar website
Socializing with locals
There's a real community spirit to Lancaster's public events and civic spaces. Prominent among these is the Gregson Centre, where you can watch films and live performances with the locals, and enjoy a casual meal in good company. The café-bar serves Mexican dishes, burgers, and snacks through the day, and in the evenings the chefs bake a tasty pizza. The Lancaster Comedy Club is held at The Borough Inn. It's another popular spot for pub meals, so you might want to get there early to secure a table for drinks, dinner, and the show.
Gregson Arts and Community Centre
Inside this picturesque Victorian heritage building you'll find a friendly local hangout, open 7 days. Regular drop-in events include movie screenings, music sessions and comedy shows. Cheerful crowds also gather here to watch soccer matches on the big TV.
33 Moorgate, Lancaster, Lancashire LA1 3PY. Tel: +44 1524 849959
Gregson Arts and Community Centre website
Lancaster Comedy Club
Every Sunday night at 8 PM, the function room of the Borough becomes the Lancaster Comedy Club. The evening consists of 4 live stand-up acts, and famous faces sometimes drop in for guest spots.
The Borough, 3 Dalton Square, Lancaster, Lancashire LA1 1PP. Tel: +44 1524 64170
Lancaster Comedy Club website
Live music venues
Many Lancaster pubs don't just serve up food and drink, but provide a regular soundtrack of live music too. Yorkshire House and the Bobbin are 2 of the most popular spots to see and hear bands play. The vintage interiors of the Dalton Rooms make an atmospheric backdrop for gigs and karaoke singalongs, with the busy dance floor of the Glow Room nightclub right next door. The Dukes and Grand Theatre both regularly host pop, folk, and rock bands. The Dukes also has a cinema that screens recent releases every night.
The Yorkshire House
The small stage at the "Yorkie" makes room for performances by established bands and emerging talents. You can pop into this cosy stone pub for a quiet afternoon pint, and stick around as it fills with evening chat and music.
2 Parliament Street, Lancaster, Lancashire LA1 1DB. Tel: +44 1524 64679
The Yorkshire House website
The Bobbin
This buzzing street-corner pub prides itself on promoting original new music. The emphasis is firmly on alternative indie, rock, and metal, but there's often a bit of blues, jazz, or folk thrown in. Every Thursday is live music night.
36 Cable Street, Lancaster, Lancashire LA1 1HH. Tel: +44 1524 32606
The Bobbin website
Morecambe nights
Morecambe has its own distinctive nightlife. You can enjoy a quiet chat over pints at friendly local pubs, or spend a fun evening at Reel Cinema and Morecambe Superbowl by the seafront. The bar at the Midland Hotel is an art-deco marvel, while The Platform is set inside a converted railway station, hosting concerts, markets, and other big events. Folk and jazz bands often play the Hothouse, drawing capacity crowds of more than 200 people. It's always worth checking what's on at Winter Gardens Theatre, another local Victorian gem undergoing careful restoration.
The Platform
On any given night this busy venue might be given over to a folk collective, soul band, stand-up comic, or troupe of flamenco dancers. Food and drinks are served under the pitched-glass roof where the train tracks used to run.
Station Buildings, Marine Road Central, Morecambe, Lancashire LA4 4DB. Tel: +44 1524 582803
The Platform website
The Midland Hotel
The modernist curves of this landmark hotel lead you inside to its centerpiece Rotunda Bar. There's always a convivial atmosphere, and the decor adds a touch of old-world glamor to the music whenever a live band begins to play.
Marine Road West, Morecambe, Lancashire LA4 4BU. Tel: +44 1524 424000
The Midland Hotel website