Exploring Culture and the Arts in Cairns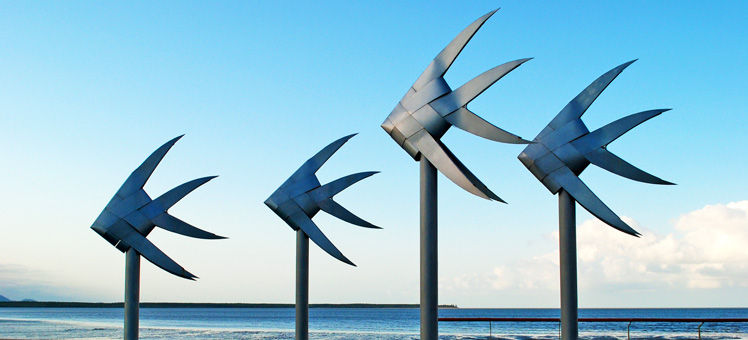 Think of Cairns, and you probably picture the tropical paradise of the Great Barrier Reef and Daintree Rainforest, pristine beaches, and crystal clear seas. Delve below the surface though, and you'll find a vibrant creative scene that offers theater, music, visual art, and regular cultural festivals.
The visual arts in Cairns
Cairns is home to a bustling visual arts scene with its hub at the Cairns Regional Gallery. It has a permanent collection focusing on North Queensland and Aboriginal artists, and hosts visiting international exhibitions. KickArts, housed in the Centre of Contemporary Arts, is the place to experience lively modern arts. Its shop is a great spot to pick up crafts and design from the region. Cairns also has several small galleries where you can buy work by local artists.
Cairns Regional Gallery
The museum is housed in the heritage-listed former Public Offices Building. At the Gallery Shop, you'll find a great choice of handcrafted gifts by local and national artists.
Corner Abbott and Shields Streets, Cairns QLD 4870Tel: +61 7 4046 4800
Cairns Regional Gallery website
KickArts Contemporary Arts
As well as cutting-edge contemporary visual art from indigenous and non-indigenous artists, KickArts also hosts events including artist talks, workshops, and performances.
96 Abbott Street, Cairns QLD 4870. Tel: +61 7 4050 9494
KickArts Contemporary Arts website
The performing arts in Cairns
Cairns has a small but dynamic performing arts scene, with an array of dance, theater, comedy, and music performed by local and visiting companies. Cairns Civic Theatre presents shows ranging from local amateur to touring international productions. The award-winning Jute Theatre Company, based at the Centre of Contemporary Arts, specializes in drama by modern Australian playwrights.
Cairns Civic Theatre
Regional Queensland's oldest purpose-built theater hosts over 100 productions a year, including drama, dance, comedy, and circus.
Corner Sheridan and Florence Streets, Cairns QLD 4870. Tel: +61 7 4050 7777
Cairns Civic Theatre website
Centre of Contemporary Arts Cairns
The Centre of Contemporary Arts is an innovative cultural space where you'll find a theater, performance venue, 2 galleries, as well as a café and bar.
96 Abbott Street, Cairns QLD 4870. Tel: +61 7 4088 1010
Centre of Contemporary Arts Cairns website
Culture at The Tanks
In the lush Cairns Botanic Gardens you'll find Tanks Arts Centre, one of Australia's most inventive contemporary arts facilities. Three converted naval oil tanks dating from World War 2 provide an impressive industrial setting for visual arts, community events, performance, and concerts.
Tanks Arts Centre
On the last Sunday of the month between April and November, The Tanks host Sunday markets where you'll find a great selection of local arts and crafts, clothes, and natural health products - along with live music.
46 Collins Avenue, Edge Hill, Cairns QLD 4870. Tel: +61 7 4032 6600
Tanks Arts Centre website
Public art and festivals in Cairns
There's a lot to see for free in the Esplanade parklands. You can't miss the 5 large "Woven Fish" sculptures in the Lagoon, and there are plenty of other works to compliment the sweeping Trinity Inlet views. Cairns Festival presents dance, music, performance, and exhibitions, as well as a "Grand Parade" and Carnival. The colorful Cairns Indigenous Art Fair celebrates the Aboriginal people of North Queensland through visual and performing arts.
Cairns Festival
The festival takes place over 10 days in August and September all over the city.
Various locations. Tel: +61 7 4044 3594
Cairns Festival website
Cairns Indigenous Art Fair
This 3-day festival happens in late July and early August, and features music, dance, and theater, as well as visual arts, from north Queensland Aboriginal communities.
Cairns Cruise Liner Terminal, Cairns QLD 4870. Tel: +61 7 40507712
Cairns Indigenous Art Fair website