Breweries, Dance Clubs and Craft Cocktails - Nightlife and Entertainment in Brooklyn
Breweries, Dance Clubs and Craft Cocktails - Nightlife and Entertainment in Brooklyn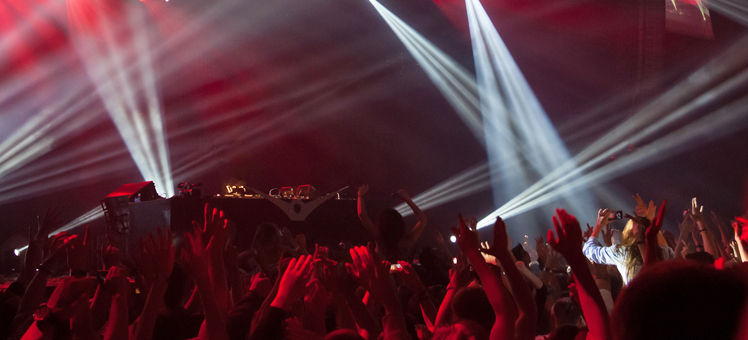 Home to a large young and hip population, Brooklyn has a correspondingly vibrant nightlife scene. There are so many cool bars here that it can be difficult to keep up, and the dance clubs rival the best in Manhattan. The entertainment scene is not all drinking and dancing though. How about a midnight screening of a cult classic with dinner served to your seat?
Where to drink
Narrowing down a list of Brooklyn's best bars is no easy task. The drinks scene here is booming, with craft cocktail bars and breweries regularly popping up across the borough. It's in Williamsburg where you'll find the deepest concentration of watering holes. Notable venues include Dram for cocktails, and Brooklyn Brewery for sampling beers, but you can find your own favorite spot by simply strolling the streets and popping in and out of the bars.
Dram
Thoughtfully created cocktails are the main draw at this chic and airy spot. There's a good selection of beers and wines too, as well as a menu of light snacks.
177 S 4th St., Brooklyn, NY 11211Tel: +1 718 486 3726
Dram website
Brooklyn Brewery
The Williamsburg home of the increasingly popular Brooklyn Brewery beer brand offers brewery tours during the week. At the weekend, you can sample its offerings in the Tasting Room.
79 N 11th St., New York, NY 11249. Tel: +1 718 486 7422
Brooklyn Brewery website
Dance Clubs
Williamsburg's Output is renowned for its high-quality sound system, rooftop dance deck, and for attracting world-famous DJs. Alongside house and techno, you can hear underground dance music genres here, which, by banning a bottle service and cameras, aims to attract only serious music fans. Some of Output's most popular parties happen on Sundays. Trendy Bossa Nova Civic Club, in Bushwick, offers craft cocktails alongside internationally acclaimed DJs spinning house and techno.
Output
Highly rated by dance music aficionados, this Williamsburg nightclub attracts some of the world's biggest DJs.
74 Wythe Ave., Brooklyn, NY 11249.
Output website
Bossa Nova Civic Club
The tropically themed bar at this techno club serves craft cocktails and Latin-influenced snacks to an often wall-to-wall crowd.
1271 Myrtle Ave., Brooklyn, NY 11221. Tel: +1 718 443 1271
Bossa Nova Civic Club website
Live music venues
The biggest superstars of the day fill the mammoth Barclays Center indoor arena in Prospect Heights. Popular but not quite chart-topping acts are more likely to play venues such as Music Hall of Williamsburg and nearby Warsaw, housed in a converted Polish social club. For the newest up-and-coming acts, visit Williamsburg's Rough Trade NYC, a record store that also houses a cozy music venue.
Barclays Center
An indoor sports and entertainment arena on Atlantic Avenue in Prospect Heights. The arena fits up to 19,000 fans.
620 Atlantic Ave., Brooklyn, NY 11217. Tel: +1 917 618 6100
Barclays Center website
Music Hall of Williamsburg
This triple-tiered venue in Williamsburg regularly hosts live shows by popular indie and hip-hop acts.
66 N 6th St, Brooklyn, NY 11211. Tel: +1 718 486 5400
Music Hall of Williamsburg website
Movie theaters
In Fort Greene, Brooklyn Academy of Music hosts both mainstream and art movies, as well as themed film seasons, in its 4-screen Rose Cinemas. Nitehawk Cinema in Williamsburg hosts brunch and midnight screenings of cult classics, accompanied by tableside food and a beverage service. If it's a blockbuster you're in the mood for, you'll likely find it playing at the 14-screen Linden Boulevard Multiplex Cinemas in New Lots.
Brooklyn Academy of Music
Brooklyn Academy of Music (BAM) is a multi-arts venue. It hosts musical performances, theater, literary events, opera, and film.
30 Lafayette Ave., Brooklyn, NY 11217. Tel: +1 718 636 4100
Brooklyn Academy of Music website
Nitehawk Cinema
At Nitehawk Cinema, guests can enjoy new releases, indie films, and cult classics accompanied by cocktails and a full menu.
136 Metropolitan Ave, Brooklyn, NY 11249. Tel: +1 718 384 3980
Nitehawk Cinema website