A Guide to Eating Out in Noosa - Around the World on a Plate
A Guide to Eating Out in Noosa - Around the World on a Plate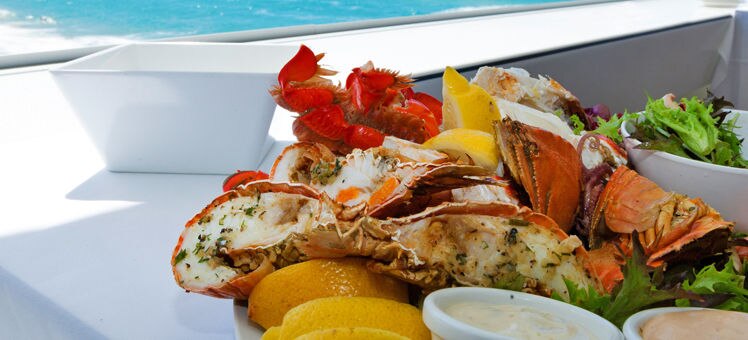 The lack of an identifiable national cuisine is actually a blessing in disguise for those eating out in Australia, with a diverse range of global dishes offered in its place. This is certainly true for the restaurant culture in Noosa. There's an eclectic selection of fine-dining restaurants available in town, to match the gorgeous nature of the beachside scenery.
Typical dishes
Seafood dishes like king prawns and seared barramundi are available in abundance for travellers seeking the coastal experience. "Modern Australian" is another popular Noosa cuisine - a delicious collision of local produce with international flavors.
East of Hastings Street
Hastings Street represents the bustling heart of Noosa Heads. As such, it's home to the vast majority of the fine-dining restaurants that populate this stylish resort destination, with some excellent choices to be found on the east side of the strip. You can dine on gourmet bistro fare in chic surroundings at Gaston, while a short walk across the road leads to Bistro C, where you can enjoy a menu sourced from fresh local produce along with pristine Main Beach views. For those seeking a more casual setting, Bernardo's Bistro On The Beach is similarly placed right on the sand.
West of Hastings Street
Foodies of all persuasions will also find themselves catered to in excellent fashion on the west end of Hastings Street, with an enticing assortment of international restaurants and Modern Australian cuisine. You can start at Kaali Gourmet Indian at the far end if you're keen for some exotic dining, or enjoy cocktails with Mediterranean dishes at Miss Moneypenny's around the corner. Cross the road and you're offered a selection of beachside dining options, with La Vida Restaurant serving seafood platters right on the sand.
The culinary delights of Noosaville
For travellers who want to get away from the hustle and bustle of Noosa Heads, the neighboring inland enclave of Noosaville offers plenty of eating opportunities. The Izakaya Geisha Japanese Restaurant dishes up innovative cuisine with scenic views of Weyba Creek. However, the picturesque stretch of Gympie Terrace alongside Noosa River is where you'll find the most options for eating out. Sirocco offers a mix of Mediterranean and North African cuisine, while the Noosa Boathouse is positioned right on the river.
Dining on the beach
While Main Beach in Noosa Heads is great for those seeking a gentle swim, Noosa also attracts its fair share of avid surfers, who will no doubt be exploring the dazzling stretch of sea and sand to the east. Sunshine Beach is a premium spot for catching waves, and while you're there you can join the surf community in a robust aussie breakfast at the Sunshine Beach Surf Life Saving Club. Head south to Peregian Beach and you'll find a few attractive options. Peregian Beach Hotel has a relaxed setting, while you can eat in style at Pitchfork Restaurant.
Discover
Find your perfect holiday in Noosa Heads
From 100 hotels.