The Many Flavors of Santa Fe - A Guide to Where to Dine
The Many Flavors of Santa Fe - A Guide to Where to Dine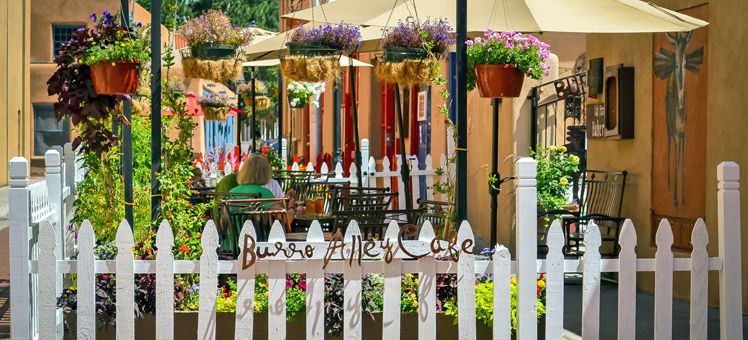 Santa Fe has become a popular dining destination among food lovers. The number of restaurants is large for a city of its size, offering a great selection of cuisines. You'll find everything from the usual fast-food outlets to superb high-end restaurants. There's a profusion of Southwestern and modern French fare, with an emphasis on innovation and the use of fresh ingredients and local flavors.
Typical dishes
Chiles are New Mexico's signature food item. Red and green ones are used in tacos, enchiladas, and fajitas, and as the main ingredient in most salsas. Margaritas are a refreshing complement to the sometimes fiery dishes.
The Plaza
There are restaurants for all budgets within a few blocks of the Plaza. Santacafé, 2 blocks north, is a great place for lunch, happy hour, and dinner al fresco on its patio. You'll find grilled dishes - lamb chops, steak, fish - and side dishes that change with the seasons. At Café Pasqual's, the menu is influenced by regional, Mediterranean, and Asian cuisine, and uses only organic products. It has a good selection of vegetarian dishes, such as the quinoa burger. For dinner, try something unusual like scallops with grapefruit, cucumbers, and mint.
Canyon Road
Whether taking a break for lunch while gallery-hopping, or for dinner after a day of exploring, you'll find Canyon Road has several first-rate restaurants. Geronimo, in the Borrego House, is an upscale restaurant known for its impeccable service. Its elk tenderloin and lamb chops can be followed by a choice of rich desserts. A few blocks north, Compound is another excellent option. The menu is seasonal and changes often depending on the availability of local products. Its summer corn soup is delicious, and its salads are made with only the freshest ingredients.
Railyard District
Friendly, relaxed Andiamo!, half a block east of Guadalupe Street, is a small, farm-to-table Italian restaurant. Crispy polenta with rosemary and Gorgonzola cheese, mushroom pizza, and linguine Puttanesca with yellowfin tuna are some of the mouthwatering dishes. In the Sanbusco Center, El Tesoro Cafe offers a mix of Central American and New Mexican dishes. Its salads include one made with warm spinach, bacon, and Gorgonzola cheese. Its Santa Fe tortilla burger - ground beef, cheese, and green chile wrapped in a flour tortilla with tomato and lettuce on the side - is a local take on the classic hamburger.
Old Santa Fe Trail and South Capitol
Just off Paseo de Peralta, simple but elegant Restaurant Martin is much-loved by locals and visitors alike. It has a delightful patio, perfect for lunch or dinner. Its yellow-fin tuna tartare appetizer is an all-time favorite. The vegetarian tasting plate changes almost nightly and showcases the freshest produce in season. A couple of blocks south of the Loretto Chapel, 315 Restaurant offers classic contemporary French bistro fare. Try their onion soup, homemade charcuterie, steak frites, or mussels in white wine. If you still have room, indulge in the chocolate pots de crème or profiteroles for dessert.