A Guide to Eating Out in Pondicherry - Discovering French Cuisine and Quaint Cafés
A Guide to Eating Out in Pondicherry - Discovering French Cuisine and Quaint Cafés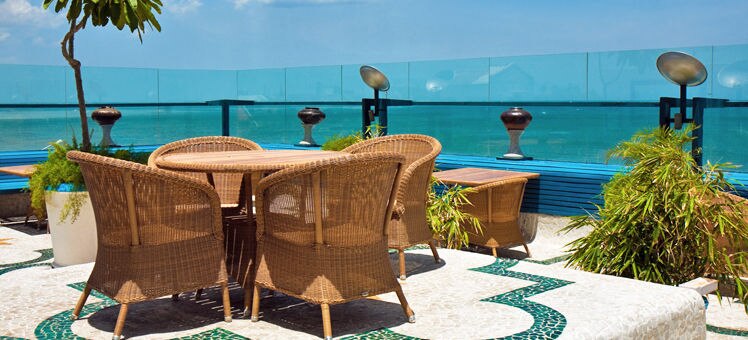 Much like the city itself, Pondicherry's culinary scene comes with a French twist. From smart restaurants in the French Quarter to beachfront cafés filled with sea breeze, they all offer French classics, accompanied by Italian and Romanian favorites. Indian flavors feature too, with a parade of popular dishes from both the north and south making an appearance on most menus.
Typical dishes
Steaks dressed in French sauces like buttery Béarnaise, and paired with wine, are menu staples. Pasta, pizza, and coffee are often available, while Indian delights include idlis, dosas, and rotis served with curries.
Goubert Avenue
A stroll along Pondicherry's lengthy Promenade Beach can mean you work up a ferocious appetite. So, it's a good thing that Goubert Avenue, which lies beside it, is home to 2 popular dining destinations. Whitewashed Le Café, with its open doorways, affords a great view of the Arabian Sea while you choose between quiches, pizzas, grilled meat, and organic South Indian coffee. The Promenade, opposite the Gandhi Memorial, is a plush hotel with 3 restaurants and a lounge. Among these options, diners flock to The Blueline for generous buffets and to Lighthouse, a sprawling rooftop restaurant, for lively barbecues.
Le Café, Beach Road, Near Gandhi Statue, Pondicherry 605001

The Promenade, Goubert Avenue, Pondicherry 605001; Tel: +91 413 2227750; Website: The Promenade
The White Town
The French Quarter, also known as "White Town," is crowded with cafés and restaurants. Villa Shanti is a courtyard restaurant in an elegant French bungalow. Here, you can sit at tables illuminated by candlelight, beneath drooping palm fronds, to feast on delicious European and Indian cuisine. On Vysail Street, La Pasta World is an Italian joint with just 4 tables and freshly-made pasta dishes rushing out of its kitchen doors. For local fare, head out to Surguru and indulge in crispy dosas and lunchtime thalis (an assortment of dishes on a large plate).
Villa Shanti, 14 Suffren Street, Pondicherry 605001; Tel: +91 413 4200028; Website: Villa Shanti

La Pasta World, Heritage Town, Pondicherry 605001; Tel: +91 413 4209629; Website: La Pasta World
M.G. Road
The sheer number of restaurants on M.G. Road will attract the attention of foodies. A popular choice is Café Xtasi, which specializes in wood-fired pizzas. Nearby, Baker Street is a bustling confectionery where crumbly quiches, creamy éclairs, warm brioche, and flaky croissants are all on offer. The dessert bar Zuka celebrates chocolate and offers decadent treats including hot chocolate, ice cream and gooey pastries. Their boxes of chocolate make great souvenirs to take back home.
Cafe Xtasi, M.G. Road, Pondicherry 605001; Tel: +91 413 4209062; Website: Cafe Xtasi

Baker Street, Bussy St, Pondicherry 605001; Tel: +91 413 6458888.; Website: Baker Street
Auroville
A trip to Pondicherry isn't complete without visiting the experimental town of Auroville, less than 15 km away. A long tour of this spiritual community could get your stomach rumbling, but fortunately Auroville's streets are packed with restaurants. Tanto Pizzeria, which serves thin-crust pizzas and refreshing bottles of homemade iced tea, tops the list of dining spots here. For a quick stop, the gelati and coffee at Dreamer's Café are a good bet. Avid cyclists can also pedal by the Aurovela Café, where you can sample vegan bread and dosas while checking out the adjoining bicycle shop.
Tanto Pizzeria Trattoria, Auroville Main Road, Auroville 605101, Tamil Nadu; Tel: +91 413 2622368; Website: Tanto Pizzeria Trattoria

Aurovela Cafe, Auroville Main Road, Auroville 605101, Tamil Nadu; Tel: +91 414 2622368; Website: Aurovela Cafe