Eating Out in Srinagar - From Kashmiri Delights to Continental Dishes
Eating Out in Srinagar - From Kashmiri Delights to Continental Dishes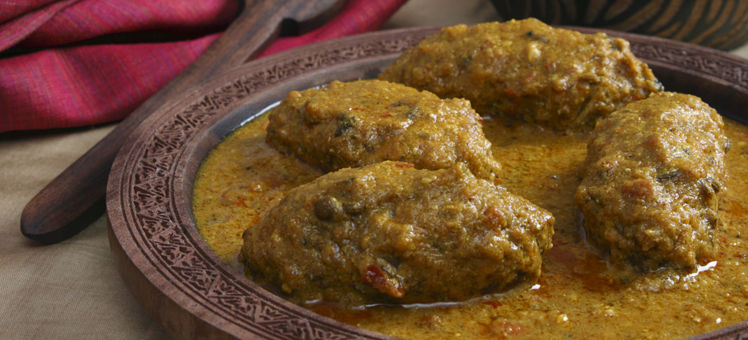 Known for its extravagant use of spices, Kashmiri cooking is considered an art form. Slow-cooked meat dishes are complemented by exotic pulao rice, sweetened by dried fruit and nuts. Other regional Indian cuisines are widely available, including favorites such as chicken tikka masala. And an important ingredient of any Kashmiri meal is green tea, known as kahwa, boiled with saffron, cardamom, and cinnamon.
Typical dishes
Local favorites include chunky seekh kebabs, made with mutton or chicken marinated in spices, along with gushtaba and rishta - delicious balls of pounded meat cooked in a thick gravy.
Uptown Srinagar
Residency Road is the liveliest place to head for specialist Kashmiri food. If you want to indulge in a traditional Wazwan banquet, comprising multiple courses based on lamb, chicken, and fish, the long-standing eatery Mughal Darbar is a popular choice. Check out the restaurant at Adhoo's Hotel, which has been serving up Kashmiri and other regional Indian delights since 1918, in an unpretentious, family-friendly setting. Uptown Srinagar also has plenty of bakeries selling thin, golden-crusted pastries, speckled with poppy or sesame seeds to suit Kashmiri tastes.
Mughal Darbar, 1st Floor, Residency Road, Srinagar 190001, Jammu and Kashmir; Tel: +91 194 2482202, +91 194 2476998; Website: Mughal Darbar

Adhoo's Hotel, Residency Road, Srinagar 190001, Jammu and Kashmir; Tel: +91 194 2472593, +91 194 2471984 ; Website: Adhoo's Hotel
Hotel restaurants
Many hotels in Srinagar have a restaurant, and these are excellent places to sample both Indian and Indo-Chinese food. For fine dining, the restaurants at the Taj Vivanta hotel are a stylish choice, offering romance and valley views. Try trendy Latitude for pan-Indian and international food, or a Kashmiri-style Rogan Josh. Dining under Chinar trees at the historic Lalit Grand Palace is a memorable experience, and it offers a multicuisine menu. If you'd like wine or beer with your meal, go to a high-end hotel, as city-center restaurants don't serve alcohol.
The Lalit Grand Palace Srinagar, Gupkar Road, Srinagar 190001, Jammu and Kashmir; Tel: +91 194 2501001, +91 194 2501002; Website: The Lalit Grand Palace Srinagar

Latitude, Vivanta by Taj - Dal View, Kralsangiri, Brein, Srinagar 191121, Jammu and Kashmir; Tel: +91 194 2461111; Website: Latitude
The Boulevard and Dalgate
Along the Boulevard and dotted through Dalgate are simple restaurants dedicated to regional Indian cuisines. Punjabi food features heavily, while South Indian dosas, a kind of pancake accompanied by spicy chutneys, are definitely worth tasting. Seek out Krishna Dhaba, a clean canteen-style eatery crammed with customers. Lhasa restaurant is well-situated off the Boulevard, and serves a mix of Tibetan, Chinese, and regional Indian dishes. It's cozy and informal inside, with a quaint garden for sunny weather. Adventurous visitors might like to try authentic tikka kebabs daubed with green chilli sauce, grilled street-side at Khayam Chowk in Dalgate.
Krishna Dhaba, Durga Nag Road, Srinagar 190001, Jammu and Kashmir

Lhasa, Lane 2, The Boulevard, Srinagar 190001, Jammu and Kashmir; Tel: +91 194 2500517
Gulmarg
Hotel dining in Gulmarg offers typical Indian regional variations and a healthy dose of spicy Chinese-inspired fare. Food quality can be variable, but a sure-fire winner is the Hotel Highlands Park for veg and non-veg meals, including Kashmiri dishes such as lotus-stem gravy with jeera rice. Highlands Park has the added bonus of a colonial-style bar with mountain views and bags of atmosphere. To splash out, head to Cloves at the Khyber Resort for wide-ranging multi-cuisine options in an elegant, formal setting.
Highlands Park, Outer Gulmarg Link, Near Church Road, Gulmarg, Srinagar 193403, Jammu and Kashmir; Tel: +91 1954 254407, +91 1954 254430

Cloves, Khyber Himalayan Resort & Spa, Hotel Khyber Road, Gulmarg, Srinagar 193403, Jammu and Kashmir; Tel: +91 1954 254666; Website: Cloves