Eating Out in Avignon - Upscale Restaurants and Provençal Classics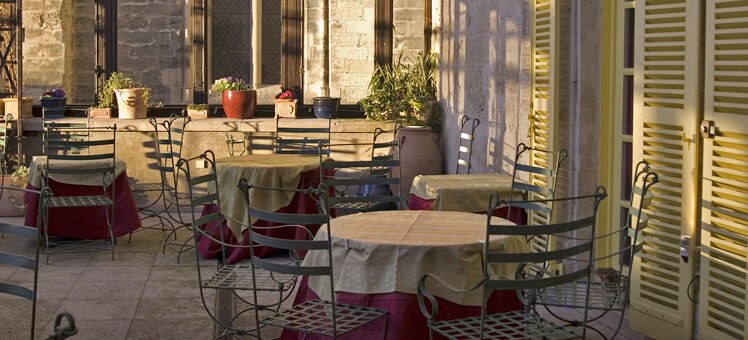 Avignon's gastronomic tradition is influenced by regional ingredients, as well as by the city's proximity to the Mediterranean and Spain. As a result, seafood, pork, duck, and beef feature prominently on menus. Pull up a chair at a local eatery to enjoy uncommon flavor combinations and expert renderings of traditional dishes.
Typical dishes
Here you'll find colorful dishes that run the culinary gamut, from bouillabaisse (fish stew) and duck liver to more contemporary fare like artichoke in a garlic bacon emulsion.
South of Palais des Papes
On the southwest corner of Place du Palais des Papes sits Restaurant Christian Etienne, an award-winning establishment known for its inventive flavors and multi-course creations. Almost directly due south is Le Verso, a casual eatery serving wood-fired pizzas, sirloin steaks, and pastas. Both restaurants offer outdoor seating.
Restaurant Christian Etienne, 10 Rue de Mons, 84000 Avignon; Tel: +33 4 90 86 16 50; Website: Restaurant Christian Etienne

Le Verso, 3 Place Nicolas Saboly, 84000 Avignon; Tel: +33 4 90 85 28 89
Place Crillon area
Tucked away in Place Crillon's Hotel d'Europe is the elegant La Vieille Fontaine. Amid white tablecloths, candles, and floral arrangements, you can choose from creative and contemporary dishes that use local ingredients, like lobster in a tomato and lime vinaigrette. If you head south on Rue Joseph Vernet, you'll find Les 5 Sens. It offers fresh, colorful dishes from several themed menus, including "comfort food" and "gourmet specialties."
La Vieille Fontaine, 12 Place Crillon, 84000 Avignon; Tel: +33 4 90 14 76 76; Website: La Vieille Fontaine

Les 5 Sens, 18 Rue Joseph Vernet, 84000 Avignon; Tel: +33 4 90 85 26 51; Website: Les 5 Sens
Villeneuve-lès-Avignon
Cross the Rhône to Villeneuve-lès-Avignon for the hotel restaurant Le Prieuré, an upscale venue with a focus on locally sourced ingredients. You can order from multi-course menus and marvel at the interior's antique elegance and its romantic vine-covered terrace. Head east and you'll find Naturabsolu, a vegan and vegetarian restaurant that specializes in raw and organic cuisine.
Le Prieuré, 7 Place du Chapitre, 30400 Villeneuve-lès-Avignon; Tel: +33 4 90 15 90 15; Website: Le Prieuré

Naturabsolu, 10 Place Saint-Marc, 30400 Villeneuve-lès-Avignon; Tel: +33 9 50 76 05 97