Travel Tips for Getting the Best out of Alibaug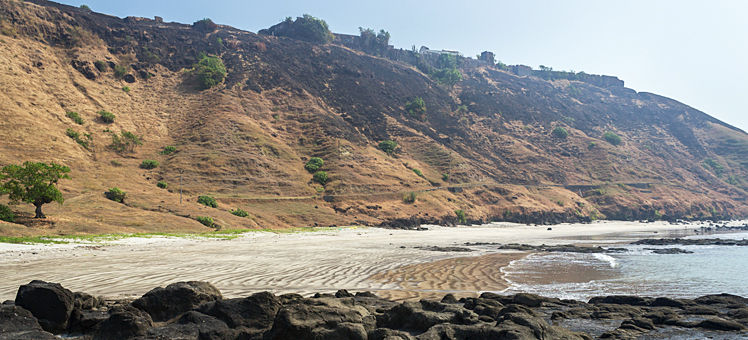 Alibaug's vast beaches carpeted in soft sands make for a relaxing holiday. While here, you can also explore Alibaug's ruined 17th-century forts, and experience the fading culture of the Bene Israel people, who settled in India centuries ago. Towns close by are worth visiting for their colonial ruins and serene seashores.
Best time to travel
Between November and March is the best time to visit Alibaug. The sun's not too harsh and you'll be able to enjoy the beaches. However, the pleasant weather also means crowds of visitors everywhere and more expensive accommodation. Summers in Alibaug, from March until July, are hot and humid. You'll still be able to move around but not without working up a sweat. Hotel prices do tend to come down during this season. However, avoid the monsoon months, from August to October. The heavy downpours might force you to stay indoors.
Not to miss
Beach life in the region goes well beyond Alibaug itself. At beachfronts in Nagaon and Kashid, you can relax on the sands or enjoy a range of water sports. A former naval base for the Maratha Empire that reigned during the 17th century, Alibaug is studded with forts. The fortifications of Kolaba and Khanderi give you a glimpse into the town's rich past. You can also delve into history by visiting the settlements of the Bene Israel community, where you can witness an ancient form of Judaism in practice.
Getting around
Mumbai Airport (BOM) is 100 km north of Alibaug - about a 3-hour drive or taxi ride. Another option is to arrive by ferry, docking at Mandwa, a beachside town 20 km north of Alibaug. From there, you can either take auto rickshaws or taxis to cover the short distance. You can also travel by train from Mumbai to Pen, which is 28 km from Alibaug.
Cuisine
Seafood is plentiful in Alibaug, and you shouldn't leave without trying the local specialties. In common with many places along the Konkan coast, Alibaug has a cuisine that features rich coconut milk mixed with fragrant spices. Steamed rice is a staple and often comes with fish or meat curries and vegetable sides that are tossed in coconut shavings and mustard seeds. Modern cafés and delis serve up sandwiches and pasta in slick surrounds.
Customs and etiquette
Alibaug's people are warm and friendly. However, for a glitch-free vacation you'll need to follow prevailing social customs and norms. Alibaug's beaches are only meant for soaking your feet or watching the sunset: you should leave the two-piece and the swimming trunks at home. Dress modestly whenever you are traveling around, especially while visiting places of religious significance. In public spaces, refrain from displays of affection. As for tipping, while not mandatory, it is normal to pay an extra 10 percent when you are pleased by the restaurant or taxi service.
Fast facts
Population: 21000

Spoken languages: Marathi, Hindi, and English

Electrical: 230 volts, 50 Hz, plug type C, D, M

Phone calling code: +91 2143

Emergency number: Ambulance: 102; Fire: 101; Police: 100