Insider Travel Tips - How to Make the Most of Your Vacation in Pondicherry
Insider Travel Tips - How to Make the Most of Your Vacation in Pondicherry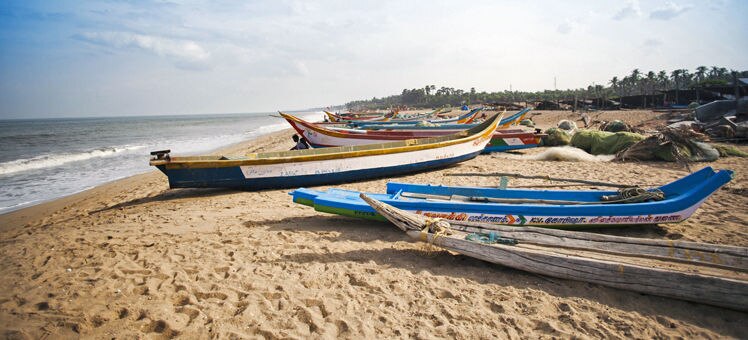 Pondicherry (also known as Puducherry) is a city of blended cultures, offering French colonial heritage, inviting beaches, and spiritual history. The French Quarter's pastel-yellow and creamy-white buildings, lined along cobbled streets, add to the city's tropical, rustic character. Botanical gardens, lush parks, sandy beaches, and a vast spiritual retreat center provide ample opportunities for rest, relaxation, and fun.
Best time to travel
October to February are the coolest months, with temperatures usually ranging from 22 to 33 C (71 to 91 F). This is Pondicherry's busiest season and you can expect to see crowds of people visiting from around the world. March to June are the hottest months, so don't forget your sunscreen. The city is also quietest this time of year, making it a pleasant time to visit.
Not to miss
Auroville, also known as "City of Dawn", is an innovative community aiming to promote tolerance among residents and visitors alike. It's also a place where you can enjoy art and culture, spa treatments, delicious food, and Ayurvedic therapies. French settlers went to great lengths to recreate their homeland in Pondicherry, leaving the French Quarter a legacy of colonial buildings, churches, opulent gardens, and European eateries by the sea.
Getting around
As many of Pondicherry's attractions are clustered together, it's easy to explore on foot. If your legs get weary, you can catch a ride on a 3-wheeled auto-rickshaw, often called an "auto." Taxis are available for longer journeys, including airport transfers. The nearest airport is Chennai International Airport (MAA), which is 150 km away and roughly a 3-hour drive by car or taxi. Puducherry Railway Station (PDY) is a 20-minute walk from Promenade Beach and has both auto-rickshaw and taxi stands. It offers services to New Delhi, Chennai, Bhubaneswar, and more.
Cuisine
Food in Pondicherry reflects the city's strong ties to both Tamil and French cultures, with influences from Kerala, Andhra Pradesh, and Karnataka as well. Fresh coffee, baguettes, and flaky croissants are breakfast staples that you'll find in most hotels and cafes, alongside traditional Indian breakfast items. Coconut curry dishes, such as kadugu yerra, shrimp and potatoes in a tomato-based sauce with coconut milk, are popular dinner options. There's also a wide variety of vegetarian choices available, including curries made with seasonal vegetables and spices, or dosas, which are crispy pancakes with a delicious savory filling.
Customs and etiquette
It's typical in India for people to welcome you by asking personal questions, even when first meeting. This is a common way of showing interest, so asking questions in return is courteous. You should generally remove your shoes before entering temples or any holy places, just look for shoes lining the entrance to be sure. Looser fitting clothes are the norm and you might draw unfriendly attention if you're showing your shoulders, chest, and/or legs. Also, it's customary not to touch anyone with the left hand, so always shake hands using your right.
Fast facts
Population: 654392

Spoken languages: Tamil, English, French, and Malayalam

Electrical: 230 volts, 50 Hz, plug type C, D, M

Phone calling code: +91 413

Emergency number: Ambulance: 102; Fire: 101; Police: 100