Where to stay in the French Riviera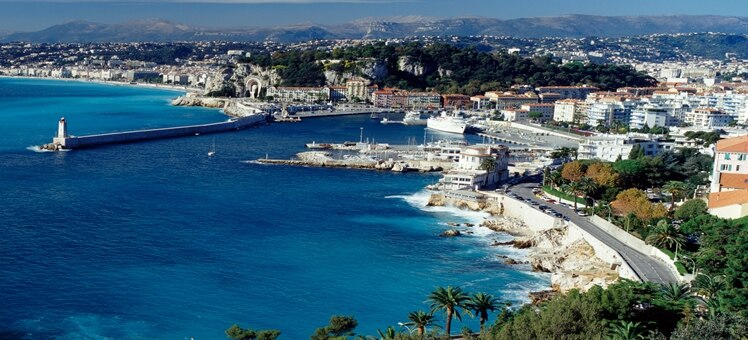 The vibrant mix of places to visit means that there really is something for everyone here. From small chateaus in the mountains, next to vineyards and forests, to beachfront hotels with roof pools and terraces, the selection is endless, with something to suit all budgets. Although the French Riviera is well-known for being at the height of luxury, there are also a large selection of smaller family-run hotels and B&Bs to give you the authentic experience.
Nice
The pretty beachside town of Nice is the gem in the French Riviera's crown and attracts an array of travelers from families to honeymooners to groups of friends. The city is served well by public transport with bus and tram routes enabling you to get around with ease, and public bikes for rent (much like London's Boris bikes) making it even easier to explore the city on your own terms.
Hotels in Nice
There are a number of modern and traditional hotels in town, with a good selection of hostels too, for backpackers only wanting to spend a day or two here, or for those on a budget. Holiday homes are also popular here, with small apartments in the old town often catering for tourists.
Cannes
Even though Cannes oozes glamour and luxury, it has humble roots as a small fishing village. It's a bustling social hub with plenty of bars, restaurants, casinos and nightclubs to enjoy, with something to suit all budgets. A train connects Nice and Cannes, making it easy to get to if you fly to Nice, and once in town it's pretty easy to find everything you need on foot, with the narrow winding streets of the old town making it practically impossible to fit any form of transport through it!
Hotels in Cannes
The most popular hotels are on the seafront, with many hotels offering private beaches. This type of accommodation is ideal as most of the beach front in Cannes is private and can be hard to gain access to. A number of small family-run hotels pepper the inter-city streets which are more affordable.
St-Paul-de-Vence
A pretty walled city, St-Paul-De-Vence has preserved many of its original medieval features and attracts lots of couples who want a romantic place to get away from it all, or history buffs looking to explore the countless art galleries and museums of the area. Pedestrianized, it's easy to wander through the small village in a few hours, taking in everything it has to offer.
Hotels in St-Paul-de-Vence
From small villas, to places like La Colombe D'Or, which houses a huge collection of private artwork, the accommodation here is as lush or as basic as anywhere else in the French Riviera.
Vence
A pretty inland town, Vence offers unrivalled views over Antibes and the Mediterranean. An arty sort of commune, the medieval town has a pleasant town square, looming cathedral and a few galleries and museums. A great place to stay if you want to enjoy the climate, cuisine and culture of the French Riviera without the hustle and bustle of bigger resorts like Cannes and St Tropez.
Hotels in Vence
A few secret spas and chateaus are nestled behind the town, while in town you can find pleasant independent hotels which offer up swimming pools, breakfast and room service at an affordable price.
Discover
Find your perfect holiday in Nice
From 1110 hotels.