A guide to shopping on the French Riviera – where to shop and what to buy
A guide to shopping on the French Riviera – where to shop and what to buy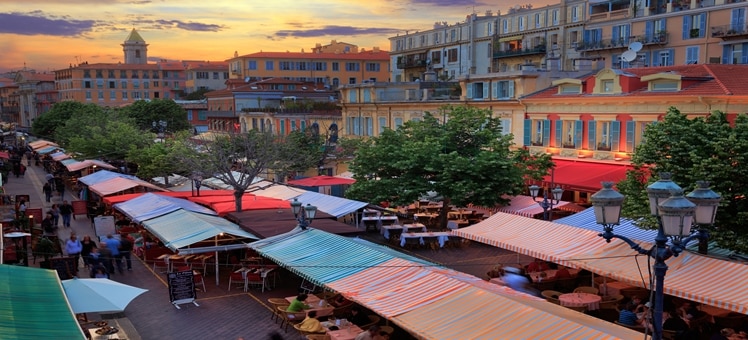 Malls and markets, designer one-offs to hand-made one-offs, flea markets and food markets. Whatever your shopping passion is, you'll find the cream of the crop in the French Riviera. Shopping malls can be found littered along the region, and the marketplaces of Nice, Cannes et al, are the heart of the city, with high-heeled beauties and tanned locals alike buying their food and drink from the colorful stalls.
Nice
Near the airport is Cap 3000, the largest shopping mall in the region with over 100 shops, restaurants and department stores, including Galeries Lafayette which sells designer gear. In town, Nice Etoile is a four storey mall, which again offers all the usual suspects of a shopping mall, while the Rue Masséna is a pedestrianized promenade which runs parallel to the beach, offering swimming outfits, nightclub wear and other trendy outfits.
Cannes
Perhaps the most famous stretch of shops in Cannes is on La Croisette Boulevard. Right on the sea front, it has all the familiar designer names including Louis Vuitton, Chanel, Gucci and Dior. For items that are a little more affordable, the Forville Market is a flea market which sells fruit, veg, fish, antiques, furniture, and books: really a whole Aladdin's Cave of hidden treasures! As you wander through the market, the smells of the freshest fruit and the fishiest fish will fill your nose and arouse your senses.
Grasse
Just outside of Nice, Grasse has a neat collection of places to get some just-off-the-press goods. The parfumerie Galimard is one of the oldest in the area, and here you can make a custom scent to take home with you as a gift for a loved one or for yourself. Elsewhere, the Huilerue Sainte Anne will guide you through the process of olive oil production, where you can sample some of the shop's wares and buy a few bottles to take back home with you.
St Tropez
In the old quarter of the town designer labels face market stalls and around every corner you'll find one big fashion house or another jammed into St Tropez's narrow streets. It's a curious mix of market-cum-designer-outlet with people casually holding Louis Vuitton bags amongst their wares from the market. And if designer goods aren't your thing, visit the Place des Lices Market where you'll be jostled in amongst stalls selling food, drink, pottery, plants, antiques and more.
Shopping tips
Depending on where you're staying, traditional hours for shops are Monday to Saturday, 9am to 12pm and then 2pm to 7pm; although many of the city shops will stay open throughout the day and on Sundays too during tourist seasons. It's rare that you'll find anywhere open 24 hours, apart from pharmacies. When shopping, don't bother haggling on prices: what you see is what you get, especially when it comes to fruit, vegetables and other perishable items. Don't be alarmed if people chat to you too - a friendly hello to the shopkeeper is always advised, and you should never feel obliged to buy anything in a shop - window shopping is a past time for many French shopaholics!
Discover
Find your perfect holiday in Nice
From 1270 hotels.