Where to eat in Perth – a food and dining guide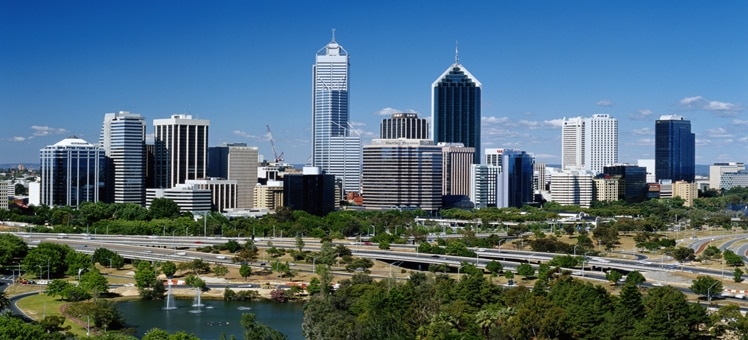 Because of its multi-cultural population, Perth's typical cuisine cannot be defined in one word, but is a mixture of international and national influences. A diverse array of restaurants grace the city's streets, including Indian, Thai, Chinese and modern Aussie, just to name a few. On top of these exotic eateries are a number of traditional pubs and cafés where heart-warming fare and sweet delicacies are served respectively.
Northbridge
As you walk the streets of Northbridge you'll discover they city's greatest collection of Asian restaurants, with Thai, Japanese, Chinese, and sushi joints in abundance. A prime example is Japanese restaurant The Bonsai Restaurant and Café, whose sushi is produced in a contemporary style. Its 'try a bit of everything' menu is ideal for first timers or those who just can't resist dabbling in multiple dishes. Blending these Asian influences with local produce is Nine Fine Food, where typical Aussie cuisine is mixed with Asian influences to produce stylish and taste-bud-tingling inventions.
•
The Bonsai Restaurant & Café
, 30-36 Roe Street, Northbridge, WA 6003. Tel: +618 9227 5756•
Nine Fine Food
, 227 Bulwer Street, Highgate, WA 6003. Tel: +618 9227 999
Swan Valley
Perth's prestigious Swan Valley produces some of the country's finest wines and beers, and sampling the goods is made easy by the impressive amount of cafés and restaurants in the area. At The Cheese Barrel visitors can get a true taste of Swan Valley's natural produce, from its wine to its cheese, and even its olives. Founded by French vintners from Bordeaux, Little River Winery and Café combines the traditional method of wine making with Australia's rich soil and climate, producing a unique and delicious vintage. Complement the silky drink with homemade rillettes, or a cheese platter in the on-site café.
•
The Cheese Barrel
, Olive Farm Wines, 920 Great North Hwy, Millendon. Tel: +618 9296 4539•
Little River Winery & Cafe
, 2 Forest Road, Henley Brook, WA 6055. Tel: +618 9296 4462
Fremantle
It is safe to say that the Fremantle area celebrates the Western world's hearty cuisine. Flame grilled burgers encased in a thick, fluffy bun make a common appearance alongside a healthy helping of French fries and salad in the many burger joints, like Missy Moos Gourmet Burger Bar and Run Amuk Hotdogs Unleashed. For dinner and a show, head to Sandrino, where the open-plan interior means diners can watch the chefs prepare their dishes. Its homemade pasta and wood-fired pizzas draw in the crowds who enjoy slurp-worthy spaghetti and crispy, doughy bases.
•
Missy Moos Gourmet Burger
, 400 South Terrace, Fremantle, WA 6162. Tel: +618 9433 3322•
Run Amuk Hotdogs Unleashed
, 386A South Terrace, South Fremantle, WA 6162. Tel: +618 9335 1216•
Sandrino
, 95 Market Street, Fremantle, WA 6160. Tel: +618 9335 4487
Joondalup
Encouraging its younger generations, Joondalup is home to a unique restaurant that is operated by the students of Hospitality and Culinary Arts at the West Coast Academy. The exciting environment allows diners to sample dishes produced by Australia's up and coming star chefs. A three course meal of contemporary Australian fare is on the menu, at a fraction of the price of those made by fully fledged chefs. As a student haunt, Joondalup's other restaurants are as diverse as its student body, with Asian, pub and European restaurants available. The Musashi chain draws in the crowds with their chicken katsu and beef teriyaki.
•
The Pavilion
, WCIT, 35 Kendrew Crescent, Joondalup, WA 6027. Tel: +618 9233 1770•
Musashi
, 1/115 Grand Blvd, Joondalup, WA 6027. Tel: +618 9301 0226
Subiaco
The 'Subi' area of the city is a good hot spot for food, and its popular Funtastico serves authentic wood-fired pizzas in a typical Italian atmosphere. Usually packed with locals, the pizza joint has also had its fair share of celebrities who've left their mark with signatures and paintings. The area is also frequented by brunch lovers, who gather at The Red Chair Café and Pure Bar for a stylish dining experience where delicious foods are presented like artwork.
•
Funtastico
, 12 Rokeby Road, Subiaco, WA 6008. Tel: +618 9381 2688•
The Red Chair Café
, Shop 2 Crossways Centre, 180 – 184 Rokeby Road, Subiaco, WA 6008. Tel: +618 9381 3742•
Pure Bar
, 331 Hay Street, Subiaco. Tel: +618 9382 3330
Local dish
Once hunted by indigenous Australians, kangaroos are still a popular meat in the country. These days they are accompanied by a fluffy bun, mustard and a slice of lettuce to make a delicious kangaroo burger.
Discover
Find your perfect holiday in Perth
From 500 hotels.