Where to eat in Montenegro - a food and dining guide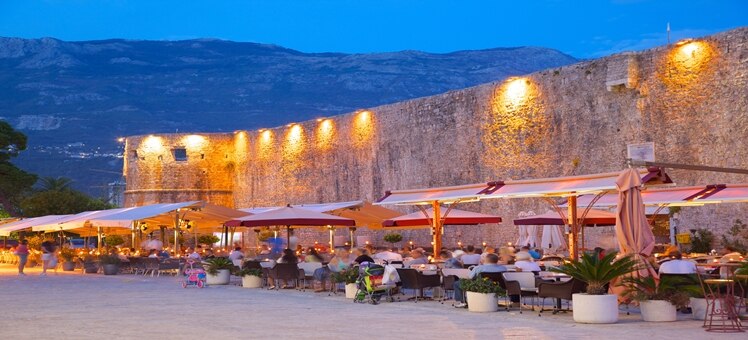 Cuisine in Montenegro has multi-cultural influences from a variety of sources thanks to the country's historical past. These range from Italian and Mediterranean to Turkish and Hungarian. Along the coast, seafood obviously dominates and the quality is generally excellent. Inland, cheese and meat dishes are more common. Across the country restaurant food ranges from functional to fine dining but is typically served in large portions.
You will find the freshest ingredients, menus designed according to the season and recipes that have been passed down through generations. Fine dining is becoming more common in the bigger towns, but you will get the real flavors and tastes of Montenegro from its traditional restaurants, called konoba, which serve things like grilled kebabs, goulash and cabbage leaves stuffed with mincemeat. Generally Montenegrins are meat lovers, but the Adriatic's freshest fish put up stiff competition along the coast. Sea bass, sea bream, lobster, mussels, squid and octopus are all popular, and delicious.
Čorba (chowder) is a popular Montenegro speciality (nettle chowder is a particular favorite), and is a combination of noodles, vegetables and potatoes with meat often added. Njeguški pršut (prosciutto) and sausages are meat-lovers heaven and come to the table following a lengthy preparation. Cured on oak for a couple of months they are then served with Njeguški dried cheese and Loza, a home-made grape brandy. Šopska salata, is another tasty (and healthy) local dish. A combination of tomato, cucumber, green peppers and olives with feta cheese thrown in, it resembles a Greek salad, and is just as delicious.
Budva
Seafood dominates on the coast, with starters including octopus salad and fish soup, with a risotto dish to follow. Most restaurants have their own version of black risotto made from cuttlefish ink. Fresh fish is generally priced by the kilogramme. Perla Cafe Lounge and Restaurant in Budva is a modern, lively restaurant with a welcoming atmosphere. Come here for pasta and risotto as well as fish or meat and don't leave without trying the Perla chocolate cake.
Perla Cafe Lounge and Restaurant, Mediteranska bb, Budva, 85310. Tel: +382 68 808 080
Bay of Kotor
Overlooking the Bay of Kotor, Restaurant Galion, offers some seriously good food with an impressive view. Expect to find a menu that reflects international tastes but fresh local produce. Fish is a particularly good choice here. For authentic cuisine, head to the center of the old town to get a real taste of the region. Restaurant Cesarica is a good option if you want a homely vibe. The family run restaurant is decorated with memorabilia and the stone interior is cosy rather than cold. The food reflects the welcoming décor with large portions of local, home cooked fare.
Restaurant Galion, Šuranj bb, 85330, Kotor. Tel: +382 32 311 300
Restaurant Cesarica, Stari grad 375, 85330, Kotor. Tel: +382 69 049 733
Central Montenegro
When you head inland, you need to sample the local cheeses and meat dishes. Cheeses to try include sir iz ulje (cheese preserved in olive oil) and kožji sir (goat's cheese). Both of these tend to come out at the start of a meal – rather at the end. For meat-eaters pršut (prosciutto), Njeguški stek (steak stuffed with prosciutto and cheese) and jagnjece pečenje sa ražnja (whole lamb roasted on a spit) are worth looking out for. Popeci is a traditional Podgorica meal of pork fillets filled with cheese and fried in breadcrumbs. If you want to eat centrally the Hotel Grand has a top spot in Cetinje center and it serves top notch cuisine.
Hotel Grand, Njegoševa 1, Cetinje, 81250. Tel: +382 30 279 779