Where to shop in Bristol - a guide to the best in town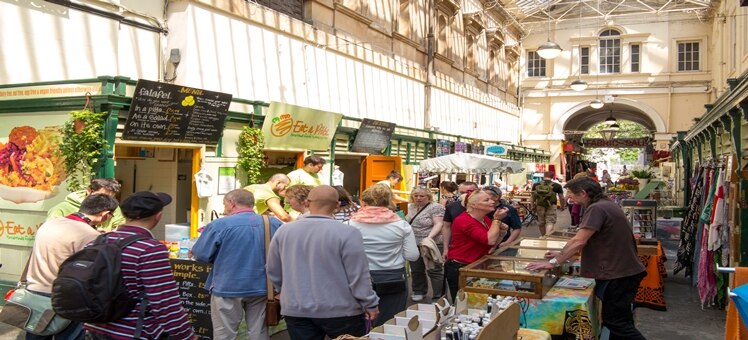 Bristol caters for every kind of shopper. Choose between quirky independent stores filled with second hand treasures in Park Street and Stokes Croft, or from a huge range of classic high street retailers in the Shopping Quarter. Alternatively, visit leafy Clifton for upmarket boutiques and antique shopping. Wherever you choose to splash your cash, you can guarantee you will pick up something that is one of a kind.
Bristol Shopping Quarter
The Bristol Shopping Quarter is perfect for those who love high street stores. Its home to two shopping centers; Cabot Circus and the Galleries, where you can find all your British high street mainstays including Boots, WH Smith, H & M and House of Fraser. There's even more too – Broadmead is an outdoor area with branches of Marks & Spencer, Debenhams and Primark. With independent and designer stores worked into the mix, it's a great place to venture if you want a range of different shops at your fingertips.
Park Street
On Park Street, rows of independent shops selling clothes, art, records and books are housed in pretty Georgian buildings. Come here to dig around for vintage clothing, homeware and retro designs. BS8 is a popular independent department store on Park Street, containing an array of smaller local brands. Upstairs at BS8 is a separate shop, run by seven designer makers who sell their handmade wares above the main store. Alternatively, visit Love From Random, an aptly named store with a constantly changing turnover of stock, and where you can find everything from 1970s Playmobil characters to Moomin themed bath products.
Clifton Village
Clifton is a relaxing place to shop, with a mixture of classy boutiques, antique stores and cafes. There's also the odd independent record shop, like Rise, whose winning formula has led it to expand its ranks outside of the city. For fashion-lovers, Clifton Village is an ideal place to shop. Ella Boutique sells clothes, jewelry and footwear by both European and local fashion brands. Clifton Arcade is also worth a visit – you'll feel like you've stepped into the past as you enter into a world of sweet shops, tumbledown antique stores and vintage clothing emporiums, all contained in a Victorian-era building.
Gloucester Road and Stokes Croft
Gloucester Road is the UK's longest street of independent shops, and adjoining Stokes Croft carries on the indie feel. Wander past colourful graffiti-ed walls as you make your way from shop to shop, where you can even purchase your own piece of street art - at Guerrilla Galleries. If you're after something else for your home, Iota is a small store selling homeware and gifts, stocking amongst other things VW camper shaped tents, seahorse shaped pendants and artificial birds. If you're hungry after all that rummaging, pop into Joe's Bakery for some organic, artisan fast food.
Bristol shopping tips
Get ready to browse, and keep your patience – there are all sorts of finds in Bristol but they need to be unearthed first. It's a place for slowly whiling away your time in cluttered but charming stores. Focus on items made in England, which you can get for a bargain price – brands like The Body Shop, Boots, Barbour and Doc Martens. Bristol is the perfect place to shop for antiques; stores are easy to stumble across and are very affordable. Make time to shop during the week – the stores will be significantly quieter and you'll have more time to hunt for that perfect antique souvenir.
Discover
Find your perfect holiday in Bristol
From 530 hotels.