A Barcelona city guide – imposing architecture, World Heritage Sites and tasty tapas
A Barcelona city guide – imposing architecture, World Heritage Sites and tasty tapas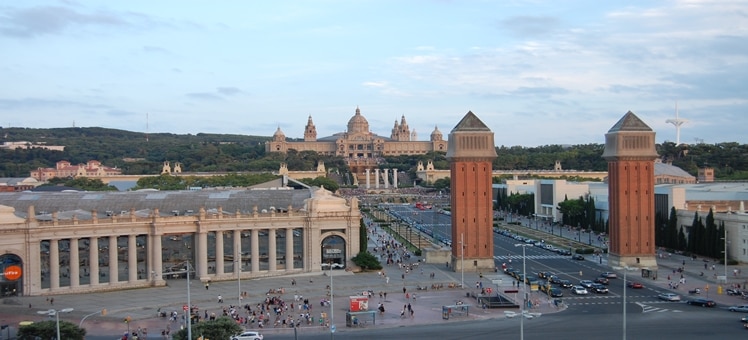 A sprawling Catalonian city packed full of World Heritage Sites, family-run tapas bars and colorful architecture, Barcelona is not somewhere to be missed. Head down to the cultural heart of Barcelona – the Ciutat Vella (Old City) - to discover a patchwork of intriguing Gothic buildings. Alternatively, explore the striking Art Nouveau structures of Eixample and the famous Gaudí constructions of Park Güell. Finally, finish up your city break adventure with a day spent on one of Barcelona's many sandy beaches.
Ciutat Vella (Old City)
The oldest part of Barcelona, Ciutat Vella is characterized by snaking cobblestone streets, bustling restaurants and fascinating architecture. Home to the Barri Gòtic (Gothic Quarter) - the cultural hub of the city - here you will discover medieval buildings sprinkled around hidden squares, shaded cafes and popular restaurants. Also home to La Rambla - the famous tree-lined street that runs between Barri Gòtic and El Raval – you can't miss the area's sights, open-air markets and tempting shops.
City Centre (Eixample and La Sagrada Família)
Encompassing the Eixample district and captivating La Sagrada Família neighborhood, the City Centre has plenty of interesting spots to explore. Aside from Antoni Gaudí's famous Catholic church, however, this upmarket district is renowned for its shopping street - the Passeig de Gràcia - and cosmopolitan café stretch, Rambla de Catalunya.
Gràcia
A less-trodden part of Barcelona; this trendy area has an entirely different atmosphere to the other districts. Bohemian and tranquil, here you discover locals relaxing amongst peaceful squares, shops and tiny cafes. An authentic Catalonian district, rich in local traditions and Mediterranean gastronomy, you will feel like you have stumbled upon the true essence of Barcelona.
Horta - Guinardó
Located on the fringes of Barcelona city centre, north of Parc Güëll, this largely residential area has a very unique history. Once comprising of just two small villages and the city's main launderette, today the region has experienced a revival in interest. Home to the fascinating neoclassical gardens, known as El Laberint d'Horta, this sleepy little spot offers another side to Barcelona's abundant charm.
Les Corts
Barcelona's fast-paced financial district, Les Corts has unique appeal. Though perhaps less picturesque than other parts of the city, Les Corts can lay claim to Barcelona's proudest export – FC Barcelona (the city's famed football team). Home to the Camp Nou stadium - the stomping ground of FC Barcelona – Les Corts has become a cultivated hotspot for all football fanatics.
Nou Barris & Sant Andreu
Lesser known tourist districts, Nou Barris and Sant Andreu are largely residential areas. Both experiencing modernization in recent years, however, here you will find a sprinkling of traditional shops and affordable cafes, not to mention a slice of authentic local life.
Sant Martí
Exemplifying 'modern Barcelona', following a mass of building for the 1992 Olympics, Sant Martí has a contemporary feel. Visit the Vila Olimpica del Poblenou to unravel the local nightlife and bar scene or step onto Diagonal Mar, the seafront stretch containing a couple of Barcelona's sandy beaches.
Montjuïc
An important part of the city's history, Montjuïc takes its name from the Jewish community once settled here. Atop of the mountain (more of a hill), you can admire breathtaking views across the city. Popular tourist attractions such as the Magic Fountain, the National Art Museum, Poble Espanyol (an open-air architecture museum) and Barcelona Olympic stadium are all just a short walk away too.