Where to stay in Algarve – an accommodation guide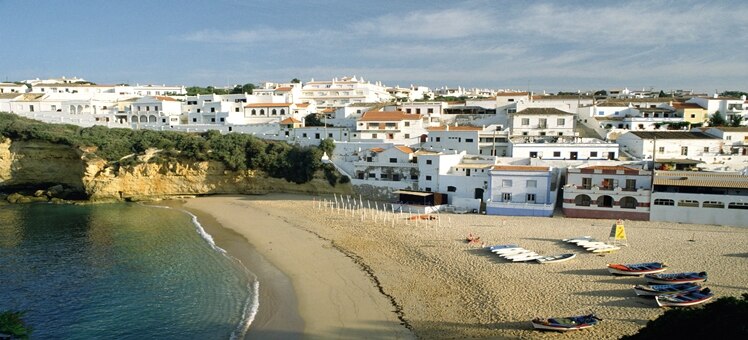 Embracing the balmy climes, Algarve's accommodation provides luxurious summer getaways that line the coastal region, litter the lively towns, and fleck the verdant hillsides. There are plenty of relaxing spas and top-notch hotels, budget hostels and homely serviced apartments. Whether on a family holiday, group escape or couple's retreat, Algarve can cater to any traveler.
Faro
Algarve's capital city can be somewhat underrated as it is often treated merely as a stopover, but is in fact replete with hidden gems. Faro is largely urbanized, but also boasts a secluded marina in the town center. Revealing its rich past, Faro embraces ancient architecture, with a Roman Wall framing its windy old town. Island-hop by boat, explore the spooky Chapel of Bones and visit the lagoons of Parque Natural da Ria Formosa.
Hotels in Faro
Unsurprisingly, Faro's hotels reflect the area's architectural mix, with varying options across the city. From beautifully budget to rather plush, Faro has you covered with multiple options the city over, from the water's edge to the city centre.
Albufeira
Albufeira is notable for its buzzing community. A hotbed of activity, Albufeira means 'Castle of the Sea' and was once a fortified Roman town. The city has a lively nightlife that has boomed since emerging from a tranquil fishing village in the 1960s. The old town has even moved with the times, with street theaters and festivals amidst its discos and bars.
Hotels in Albufeira
It is safe to say that Albufeira boasts a wide range of staying options to its visitors. Jam-packed with luxury hotels, self-catering apartments and villas, and camp sites, Albufeira is an old hand at catering to varied tastes. A true crowd pleaser, the popular destination can all but disappoint.
Lagos
Lagos has blossomed from its time as a center for slave trade to a bustling holiday destination with a bohemian vibe. Water sports and boat trips busy the large marina while sun seekers relax on the beach. The picturesque town has attracted artists through its beauty and laid back atmosphere.
Hotels in Lagos
Reflecting its progressive ways, hotels in Lagos are as plentiful as they are diverse. Families, couples, expats and backpackers can all enjoy the good life at the serviced apartments, spa and beach resorts overlooking the ocean, or impressively grand complexes with sweeping views of the town.
Monchique
Home to Foiá, Algarve's highest point at 902 meters, and a 20 minute drive inland from the coastal resorts, Monchique is a hiker's heaven. The rolling hills and varied terrain are enough to keep you occupied for days on end. Relishing the panoramic vistas, even local restaurants provide fantastic viewing points from their on-site terraces.
Hotels in Monchique
A blend of fresh country air, vast landscape views and comforting woodland scents welcomes guests to any hill or mountainside hotel in Algarve. The area's accommodation provides an idyllic retreat from the surrounding cities: a tranquil respite from everyday life.