Cochin Entertainment Guide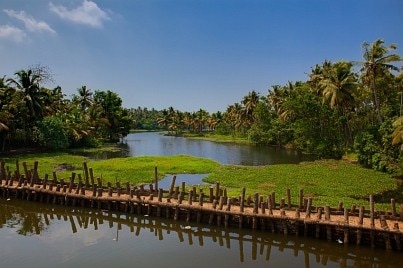 Cochin has a long list of activities available to visitors, spanning cultural exhibitions, theme parks and water sports. Outdoor sports are particularly attractive due to Cochin's beaches, mineral springs and forests.
The cultural background of Cochin is fascinating. One of the world's oldest martial arts forms was developed here in antiquity by itinerant monk, and it is still practiced to this day for defense as well as entertainment. Other popular cultural forms include puppet shows and dramatic storytelling infused with music and dance.

Cochin is an ideal holiday destination because it allows for such diverse activities without requiring long commutes. Visitors can spend the day on the beach before watching a cultural performance. As the afternoon winds down, it is time to head out on a sunset cruise or post up in a sleek lounge or café.


Kathakali
This fascinating performance art goes back centuries in Cochin. A combination of dance and dramatic storytelling, Kathakali dates to the 1500s and features elaborate costumes and precise body movements. Every performance includes traditional music. Shortened tourist performances are staged at the Kerala Kathakali Centre and India Foundation Traditional Theatre, while the unabridged versions are held at local temples.


Kalaripayattu
Kalaripayattu is a dazzling martial arts form that ranks among the world's oldest defense art forms. It certainly predates better-known forms like kung fu and karate. Today Kalaripayattu exhibitions are performed in cultural venues across Cochin.


Yakshagana Bombeyattu
These puppet shows are another of Cochin's fascinating performance arts. Staged in theaters and cultural centers across town, this traditional practice goes back many centuries. Hotel desks and tour agencies can provide details upcoming performances.
Veega Land
Veega Land is a theme park located outside of Cochin. India's first water-based theme park, it spans 30 acres and welcomes more domestic than international tourists. Beyond standard water rides, the park has several dry thrill rides. Veega Land is most appealing to families with children who need a break from sightseeing.


Water sports
Cochin boasts several beaches with facilities. The leading beaches are Cochin Beach, Padinharekara Beach and Cherai Beach. Water sports in the Arabian Sea are well catered for, with windsurfing and sailing among the most popular pursuits. It is also possible to hire a car or driver and head out to more remote beaches in the countryside.


Nightlife
The after-hours crowd will be happy to learn that Kerala has a reputation in India as a party state. Sunset cocktail cruises loft through waters in the early evening. Once the sun has set, the focus moves to the bars and pubs of Fort Cochin or the ultra-hip lounges and clubs of Wellingdon Island.

Find more information about Cochin and hotels in the area:
Cochin hotels | India hotels
Discover
Find your perfect holiday in Kochi
From 490 hotels.