Hua Hin Entertainment Guide - For fun, recreation, and relaxation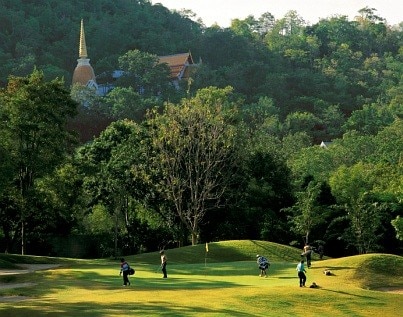 When compared to some coastal resorts, Hua Hin is very tame. There is not the abundance of bars, clubs and entertainment venues as in other Thai resorts; however, there are a great many activities to keep you busy during the day and a reasonable choice of excellent restaurants and bars for the evening.
The main area for nightlife is central Hua Hin as this is where you will find the largest cluster of bars. The beach here is also the place to head for water sports and the new phenomenon of kite surfing.


Golf
Golf courses are found throughout Hua Hin and its surrounding areas. There are a number of golf courses available to visitors; however, a golfer should not miss out on a chance to play at the Royal Hua Hin Golf Course, Thailand's first ever golf course. Another excellent course and one of the best in the city is Black Mountain. Finally, no trip would be complete without making the effort to visit the Imperial Lakeview Hotel and Golf Club as this is one of the most beautiful courses.
Kite-surfing
In the last couple of years, kite-surfing and kite-boarding have become very popular in Hua Hin. There are now two schools on the beach which offer lessons and more and more experienced kite-surfers are making their way to Hua Hin every year. The conditions are perfect and the sea remains shallow, even fairly far away from the coast.


Spas
Taking yourself off for a spa day is one of the best ways to relax. Regardless of whether you have a relaxing massage, a beauty treatment or something different, you will be guaranteed to come out revived, relaxed and refreshed. There are many spas to choose from (with most being connected to hotels) although the best include: Chiva-Som, Springfield Resort and AKA Resort.


Sailing
The Gulf of Thailand is very popular with sailors. There are a number of yacht charter companies in Hua Hin offering rental of boats. These boats can be hired with or without a full crew and are perfect for exploring the nearby islands.


Songkran Festival
This popular festival is actually the Thai New Year. It sees the country literally ground to a halt and embark on an enormous water fight. It takes place every April, which happens to be in the middle of hot season, and is therefore welcomed by most. Fun and frolics in Hua Hin last for a couple of days before things return back to normal.


Nightlife
If you are looking for a frenetic nightlife scene with loud bars and nightclubs, Hua Hin is the wrong place to visit. The city is home to a number of nightspots and there is great fun to be had, but it is not as flaunted as the likes of Phuket and Pattaya. There are a number of family-friendly bars and pubs as well as many girlie bars and the hotels are home to the main clubs in the city.