Jaipur Sightseeing Guide - Visit notable attractions and landmarks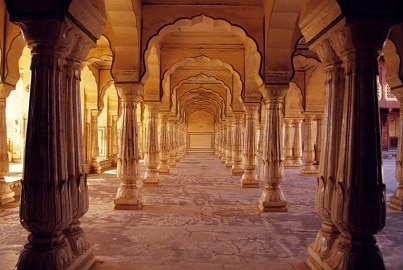 The surprisingly modern city of Jaipur successfully mixes and blends an interesting history with captivating architecture in the form of palaces, temples and lively commercial centers that house numerous businesses and companies.
The interesting Jaigarh Fort is one of the most famous of Jaipur's attractions and is by far the most attractive of all the forts located here. Temples, forts and old palaces are the primary attractions in Jaipur and there are countless examples of brightly painted and garishly decorated buildings to explore.

There are also many natural sections in the city that comprise of water features, parkland and animal species, and these can be found in one of the many gardens that charge nominal fees to access. A handful of museums make up the remainder of the main activities in Jaipur and much of the city is best discovered on foot or by local rickshaw.


Jaigarh Fort
This is the most popular fort in the city for a reason and its grand prowess has been drawing people to admire it since its conception in 1726. Located 15kms from the heart of Jaipur and within walking distance of the nearby Amber Fort, most visitors to the fort come as part of a guided tour.


Birla Mandir
This temple is famous throughout India and it acts as a magnet for Hindu devotees across the country. The walls that surround the temple are just as impressive as the building as they are adorned with various Hindu symbols. Lush gardens encompass the temple, which can be reached either via public transport or as part of an organised group.


Amber Fort
Located around 10kms from the center of Jaipur is Amber Fort; a labyrinth of halls, temples, gardens, palaces, pillared pavilions and steps that enthrall visitors for many hours. Much of the area is made from white marble set on red sandstone and the colours along with the buildings are themselves a remarkable landmark in Jaipur.
City Palace
This ancient palace is a primary example of how to successfully blend Mughal with Rajasthani architecture and the small complex houses a museum as well as a multitude of palatial structures and religious monuments. The majority of visitors to the palace will arrive by rickshaw while there are also some buses and taxis that service the area.


Hawa Mahul
A prime example of why the city is often called the 'Pink City', this monument was intricately carved from pink sandstone in 1799 and boasts five stories, 953 peepholes, hanging cornices and arched roofs. The best time to visit is during sunrise when the light of the morning sun beams down on the façade of the impressive building, which can be reached on foot from the center of Jaipur within a few minutes' walk. Alternatively, visitors can take a rickshaw or taxi here.

Find more information about Jaipur and hotels in the area:
Jaipur hotels | India hotels
Discover
Find your perfect holiday in Jaipur
From 920 hotels.