Hua Hin Sightseeing Guide - Visit notable attractions and landmarks
Hua Hin Sightseeing Guide - Visit notable attractions and landmarks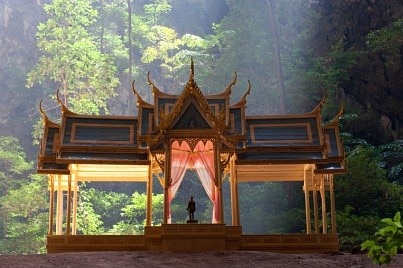 While Hua Hin's attractions are not as prevalent as those in other towns and cities in Thailand, there is nonetheless a good selection. After all, it is primarily a beach resort. It has been the holiday destination for the king of Thailand for many years and is now actually home to the king, a major attraction in itself. However, it also boasts historic temples, beautiful scenery and a number of palaces.
The natural beauty surrounding the town is one of the major attractions as visitors will find waterfalls, swamps, mountains and national parks. Wildlife is found in abundance and underwater caves are a must for anyone brave enough. The beaches themselves range from highly developed to virtually deserted and are of course, the main reason why people travel here.


Beach
Hua Hin's main beach is about three miles long and stretches all the way to Khao Takiab. The beach is never overcrowded and its beautiful white sand ensures that it is one of the nicest in the Gulf of Thailand. On the beach, visitors will find sun loungers, umbrellas, water sport outlets, food stalls, restaurants, bars and hotels and even horses that can be hired.


Klaikangwon 'Far from Worries' Palace
Dating back to the 1920s, this stunning palace is the summer residence of the Thai royal family and is set amongst beautiful landscaped gardens. It is located on the beach and while tours of the palace itself are no longer possible, the grounds are open to all.


Khao Wang Museum
Located in Phetchaburi town, this museum was once the home of King Mongut. It sits on top of a hill overlooking the town and is open for tours. The grounds are stunning and it is a fascinating insight into the Thai royal family in the 19th century.


Khao Chong Krachok
This is a stunning monastery located on top of a hill toward the northern end of Hua Hin. The monastery is home to an ancient pagoda as well as families of monkeys. The views from the top of the hill are very impressive.
Khao Hin Thoen Stone Park
Located to the west town, this park is a spectacular sight, boasting narrow walkways that wind through massive stones and rocky fields leading to the top of a hill where there are rewarding vistas across Hua Hin and the rest of the Gulf.


Hua Hin Arts and Crafts Center
This gallery showcases the work of some of Thailand's leading contemporary artists. The site is located in a traditional Thai house, which also has collections of antique furniture and old photographs. There is also a selection of traditional Thai handicrafts.

Find more information about Hua Hin and hotels in the area:
Hua Hin hotels | Thailand hotels
Discover
Find your perfect holiday in Hua Hin
From 1190 hotels.