Top 10 hotels in Las Vegas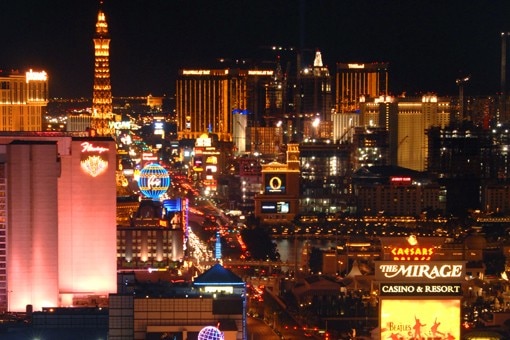 Use this handy guide to the top 10 hotels in Las Vegas to choose from luxury resorts, flashy casinos or a fun place to stay for the whole family.
Top luxury hotel – Wynn Las Vegas
Everything from the pillow-top mattresses to the Turkish towels is befitting of a luxury hotel. Rooms in its 50-story tower have views of the Strip and the European pool below.

3131 Las Vegas Blvd S, Las Vegas, NV 89109


Top spa hotel – Bellagio
The Bellagio's spa is a popular place for getting pampered. A poolside massage, caviar facial or coconut milk bath are complements to the hotel's hot and cold plunge pools.

3600 Las Vegas Blvd S, Las Vegas, NV 89109


Top casino hotel – Caesars Palace
Caesars Palace's Roman theme pervades the casino where you can play table games, keno, bet on a race or try your luck at the slots while toga-clad waitresses serve you.

3570 Las Vegas Blvd S, Las Vegas, NV 89109


Top self-catering hotel – Hilton Grand Vacations Club at the Las Vegas Hilton
Providing all the comforts of home, the Hilton Grand Vacations Club has fully equipped kitchens, whirlpool tubs and even a washer and dryer in every room. It's walking distance to the Convention Center and the monorail.

455 Karen Avenue, Las Vegas, NV 89109


Top family hotel – New York New York Hotel
The over-the-top New York theme complete with a miniature skyline makes this a fun stay for families. Kids can play at the Coney Island arcade or ride the roller coaster.

3790 Las Vegas Blvd S, Las Vegas, NV 89109
Top airport hotel – Desert Rose Resort
Close to the Las Vegas McCarran International Airport, the fully equipped kitchens make this a convenient stay for those catching early-morning flights.

5051 Duke Ellington Way, Las Vegas, NV 89119


Top golf hotel – J W Marriott Las Vegas Resort
The 54 acres of this resort hotel include 11 acres of gardens and an 18-hole pro golf course. Once you've conquered the 18 holes, there are other golf courses nearby.

221 N Rampart Blvd, Las Vegas, NV 89145


Top business hotel – Residence Inn Las Vegas Convention Center by Marriott
Whether you're attending an event at the nearby Convention Center or wanting a quiet location, this hotel is a practical stay when conducting business in Vegas.

3225 Paradise Rd, Las Vegas, NV 89109


Top pet-friendly hotel – La Quinta Inn & Suites Las Vegas-Red Rock/Summerlin
Read more about La Quinta Inn & Suites Las Vegas-Red Rock/Summerlin http://www.hotels.co.uk/ho190739/la-quinta-inn-suites-las-vegas-red-rock-summerlin-las-vegas-united-states
9570 W Sahara Ave, Las Vegas, NV 89117


Top gourmet hotel – The Palazzo Resort Hotel at the Venetian
Some of the biggest names in food have restaurants here. With delicious fare from Mario Batali, Wolfgang Puck and Emeril Lagasse, the hardest part for a gourmand is deciding where to eat.
3255 Las Vegas Blvd S, Las Vegas, NV 89109