Top 10 shopping destinations in the world
Top 10 shopping destinations in the world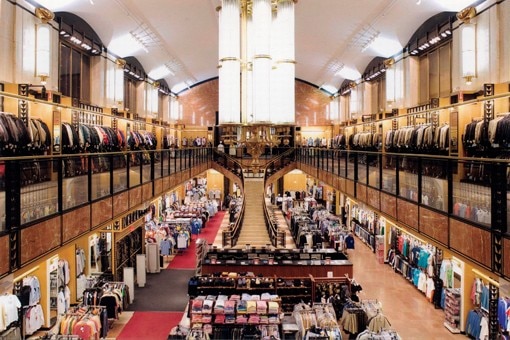 Whether you're a shopaholic or just want to bag the best bargains, you'll know where to book your next hotel with this guide to the top 10 shopping destinations in the world.
Discount designer labels in New York
Discounts of up to 75% draw savvy shoppers to mammoth New York department store Century 21. Rummage for Versace menswear, Marc Jacobs sundresses or Calvin Klein duvet covers, and come on Monday mornings to avoid the crowds.

22 Cortland St, Manhattan
472 86th St, Brooklyn


Carpet shopping in Istanbul
Medieval Kapali Çarşisi (Grand Bazaar) has been the place to buy carpets for 500 years. Its labyrinthine alleyways are alive with shopkeepers' banter. Sip apple tea as enthusiastic sellers unfurl silk Hariki carpets and hand-woven woollen rugs. Remember you can just enjoy the drama – don't feel under pressure to buy.

Kapali Karşi, Beyazit, Istanbul


Made-to-measure in Mumbai
India's sparkling city is famous for Bollywood bling, but also for great-value tailor-made clothes. Get fitted up for a suit and tie in fine wool, silks or cotton then pick them up a couple of days later. Try one of the many backstreet family-run tailors, or country-wide chain Raymond.


Chic Homeware in Copenhagen
Take a small piece of Scandinavian chic back home from Copenhagen's Strøget, said to be the world's longest pedestrianised shopping street. Invest in classics like Jorge Jensen silverware or hand-painted Royal Copenhagen porcelain from flagship stores. One-stop homeware superstore Illums Bolighus gathers together the best Scandinavian kitchenware and more.


Chocolate in Brussels
In a city of 2000 chocolatiers, trendy Pierre Marcolini and royal supplier Wittamer's battle it out for the title of most prestigious. Both have aromatic boutiques on and around the smart little Sablon square.

Wittamer's: 6 Place du Grand Sablon, Brussels
Pierre Marcolini: 1 rue des Minimes, Place du Sablon, Brussels
Californian wine in the Napa and Sonoma Valleys
Californian wine is up there with the world's best, and the vineyards of the beautiful Napa and Sonoma valleys are brilliantly set up for visitors. Tour state-of-the-art vineyards or homely independent wineries and get the inside track on grapes and techniques before choosing that perfect bottle to take home.


A fantasy toyshop in London
Seven mammoth floors are crammed to the rafters with toys and games at London wonderland Hamley's. Loveable teddy bears will appeal to younger kids, adventurous sorts will plump for robust action figures, and everyone will love the dressing-up outfits.

188-196 Regent Street, W1B 5BT, London


Dazzling crystals in Prague
In a city famed for glass-blowing, Moser's huge store has been producing shimmering crystals since the 14th century. Many of its traditional designs on delicately engraved glass are hand-blown and hand-cut. Choose from bold vases engraved with flower motifs or enamelled coloured glass.

Praha 1, Na Prikope 12, Prague


Accessorise in Milan
Velvet-soft Italian leather makes fashion capital Milan <i>the</i> place for handbags, shoes and belts, with big-name designers like Armani and Versace on the elegant covered Via Montenapoleone. But there's no need to spend big - Sermoneta on via della Spiga sells affordable gloves in every colour of the chic Italian rainbow.

Sermoneta, via della Spiga no 46


Gadget heaven in Tokyo
Neon-lit department stores and crowded market stalls compete for gadget-fiends' money in Tokyo's Electric Town – Akihabara. From tiny cameras to vast flat-screen TVs you'll find the best high-tech products in these Blade Runner-style streets long before they hit the shops back home.

Akihabara, Chiyoda-ku, Tokyo